Congratulations on your new kitchen! We're proud to stand by our craftsmanship, offering our customers an outstanding warranty and peace of mind. Learn about our Lifetime Warranty.
Product Care & Maintenance
Recommendations for the care and cleaning of thermofoil cabinet fronts
---
Cleaning Instructions
For formal cleaning of all thermofoil (composite) surfaces, wipe with a dampened cloth or sponge, using a mild soap or liquid detergent. General purpose household cleaners such as Sparkle, Glass Plus, Fantastic or Pine Sol liquid cleaner, are also effective. Abrasive cleaners or powders should not be used! They can damage the surface and make them susceptible to staining. These cleaning materials may penetrate the special finish on door and drawer front surfaces allowing food and moisture to enter and cause deterioration. Also avoid the use of paint thinners or solvent materials around doors and drawer fronts, or painted surfaces. A thorough cleaning with a mild liquid detergent or household cleaner and soft bristle brush are effective.
Take special care of composite surfaces when using indelible inks, such as felt marking pens. Food pricing labels sometimes use indelible inks that can transfer onto composite surfaces. To remove such stains, use recommended liquid cleaner or household spray cleaner such as Fantastic and allow it to dry out the stain. Wipe away with a damp cloth, then rinse. Solvents such as denatured alcohol may also be used on composite surfaces only. Never use solvents on wood products.
CAUTION: Most solvents are extremely flammable; keep away from flame or electrical sparks and follow all directions on the solvent container. Chlorine bleach may be used by dampening a cloth sparingly and blotting onto the stained area for no longer than a minute. Then, rinse thoroughly with warm water. Never mix cleaners; it may cause a dangerous chemical reaction.
Thermofoil products resist many chemicals, including most alcohols, cosmetics and drugs. Take care when using bluing or laundry bleaches or hair dyes and rinses. These chemicals can cause permanent stains.
CAUTION: A growing number of household cleaners formulated with harsh chemicals can have severe effects. Every precaution should be taken to protect surfaces from such chemicals commonly found in rust removers, metal, oven, drain and toilet bowl cleaners. Never put such cleaners on kitchen surfaces. Spills from the acids or caustic-based products will etch, corrode, and permanently discolor most products if allowed to remain on the surface. Inadvertent spills should be wiped off immediately and the areas rinsed thoroughly.
Care Recommendations
Thermofoil product surfaces can withstand indirect heat up to 275° F. To avoid prolonged exposure, keep hot pots away from walls and backsplashes.
Thermofoil products will resist scratches and chips and will not crack or damage with normal use. However, slicing, cutting, chopping, banging or dropping objects directly on the composite can damage the surface.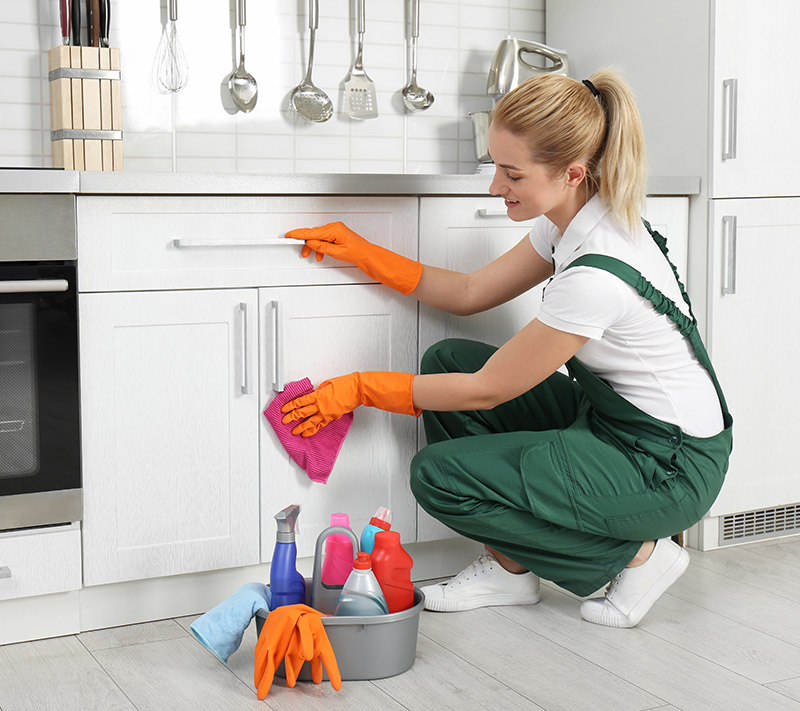 Thermofoil is impact resistant but not impervious to abuse or neglect.
Wipe up spills, splatters and water marks as they occur, keeping doors and drawer fronts dry. Avoid leaving wet cloths or excessive moisture immediately below sink or next to sinks, near, in or around the dishwasher and range top, or countertop or at seams.
Replace dried-out, cracked or worn sealant, caulking, or putty around the sink area and backsplash area periodically.
Avoid use of aerosol sprays containing silicones or paste waxes.
If you have a cooktop range, NEVER use large pots on the rear burners. This will cause excessive heat and can scorch the backsplash.
Be sure that the oven door seals properly. Excessive heat that escapes from an oven or range can cause damage.
Be sure that the door to your dishwasher seals tight; escaping steam or moisture can cause damage to your cabinets.
Coffee makers or toasters should not be used under wall cabinets. Constant heat and steam will discolor and blister the materials.
Remember to treat doors and drawer fronts as fine furniture and they will last a long time.
Submit a Warranty Claim
If you recently purchased a new home with a kitchen installed by Revelare, please register your information with us before submitting a claim. Register your contact information here. Otherwise submit your claim via the link below.