RATING
RATING
RATING
RATING
RATING
How We Achieve Customer Satisfaction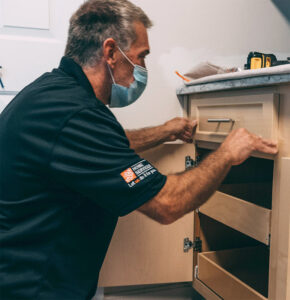 Every company obviously wants to tout their commitment to satisfying their customers. However, the difference is in execution. And to execute, you need competent people with an engineered process that consistently, time after time, delivers the desired outcome of a raving fan; not by accident, but by design.
Our time-tested process for accomplishing this was nationally recognized by The Home Depot in 2017, when Revelare Kitchens was awarded their #1 Service Provider that most closely emulated Home Depot's core values towards servicing the customer. Regionally, Revelare Kitchens has been consistently recognized as having the highest VOC scores (Voice of the Customer ratings) based on Home Depot surveys.
Over the years Revelare Kitchens has continually hosted tours of our facilities for other Service Providers on behalf of The Home Depot.
Recent Customer Reviews
Amazing job: cabinet refacing
Jacob has been great and his attention to detail has been great! Did not expect Jacob to be able to do everything himself. He just did an amazing job. The laminate work compared to what I had done in my kitchen 20 years ago it just amazing. They were able to get the laminate to line up so close and straight to the backwall treatment. I am just very impressed overall with our kitchen.
Cabinet Replacement
Designer was fun, but did not relay new stove information, Ben had to measure. Technical aspect when it comes to handles bumping into each other. Would have liked a more diverse selection.
Cabinet Refacing
So pleased with how everything turned out. Very happy that we went with you. Zach did an amazing job.
Very impressed
Very impressed with Drew and the effort he went through to help me. David did an amazing job, he worked very hard and it shows. David was very respectful to me and my wife.
Kitchen just looks so good
Kevin and his workers are so nice and accommodating. So professional and can not say enough good things. Loved our experience with you and our kitchen just looks so good.
Very Happy
Came when he said he was was going to be. Bob has amazing craftsmanship it looks like a brand new kitchen. He is very meticulous with his work and very happy with the whole process. I am a craftsman myself and I've never seen such wonderful craftsmanship throughout my career.
Cabinet Doors and Drawer Replacements
If I could give Jacob more than a 5 I would.
Great job
Jeff did a great job. Had great conversation with him everyday, and I was tickled to death with how everything turn out.
Kitchen Cabinet Refacing
Carl was meticulous. He made some legitimate design suggestions and we are very happy with the results!
amazing craftsman
Wes and his team were very courteous, punctual and amazing craftsman
Kitchen looks awesome!
Kitchen looks awesome! Jacob was great.
Refacing
Jeff was great! The best person I've had working at my house so far!
Installers were awesome
Jacob and Zach were awesome. I've had a lot of contractors in the last 30 years, this the first time
they have showed up on time!
I'm so happy – Cabinet Refacing
I'm so happy! I'm over the moon! I cannot get over the difference in my kitchen!
5 Stars
Jeff was very friendly. Was very meticulous and double-checked everything.
Schedule Your FREE Consultation
Combine your imagination with our experience! Our Certified Kitchen Designers are available to meet Virtually Online, or in your home. Schedule today and take advantage of our current promotions and financing offers.