Hundreds of
reviews.
How We Achieve Customer Satisfaction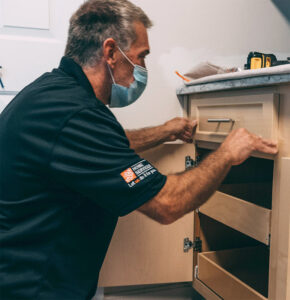 Every company obviously wants to tout their commitment to satisfying their customers. However, the difference is in execution. And to execute, you need competent people with an engineered process that consistently, time after time, delivers the desired outcome of a raving fan; not by accident, but by design.
Our time-tested process for accomplishing this was nationally recognized by The Home Depot in 2017, when Revelare Kitchens was awarded their #1 Service Provider that most closely emulated Home Depot's core values towards servicing the customer. Regionally, Revelare Kitchens has been consistently recognized as having the highest VOC scores (Voice of the Customer ratings) based on Home Depot surveys.
Over the years Revelare Kitchens has continually hosted tours of our facilities for other Service Providers on behalf of The Home Depot.
Schedule Your FREE Consultation
Combine your imagination with our experience! Our Certified Kitchen Designers are available to meet Virtually Online, or in your home. Schedule today and take advantage of our current promotions and financing offers.