RATING
RATING
RATING
RATING
RATING
How We Achieve Customer Satisfaction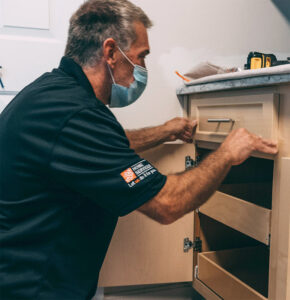 Every company obviously wants to tout their commitment to satisfying their customers. However, the difference is in execution. And to execute, you need competent people with an engineered process that consistently, time after time, delivers the desired outcome of a raving fan; not by accident, but by design.
Our time-tested process for accomplishing this was nationally recognized by The Home Depot in 2017, when Revelare Kitchens was awarded their #1 Service Provider that most closely emulated Home Depot's core values towards servicing the customer. Regionally, Revelare Kitchens has been consistently recognized as having the highest VOC scores (Voice of the Customer ratings) based on Home Depot surveys.
Over the years Revelare Kitchens has continually hosted tours of our facilities for other Service Providers on behalf of The Home Depot.
Recent Customer Reviews
Cabinet Refacing
Ed was great. There was a delay in materials arriving that was not communicated.
Looks good
Completed on time, looks good, cleaned up.
Cabinet Doors and Drawers
Kept all the cutting outside and kept the site very clean. Loved the installers.
New door and drawers
It turned out exactly the way we hoped for, it's just beautiful.
Cabinet Refacing looks great
It looks great. Everything was great. Communication was excellent.
Fantastic work
I don't give 5s, but said Karl does fantastic work.
Craftsmanship and quality
Craftsmanship and quality of cabinets are really nice. A good experience overall.
Cabinet Refacing
Craftsmanship was amazing, his helper was also fantastic
Kitchen Cabinet Replacement
Cabinet Replacement
Cabinets look wonderful. I am so happy.
Installer was excellent
Installer was excellent. Very meticulous and cleaned everything including the driveway were he was making cuts for the project. I have been in carpentry for a long time and based on my experience your company is fantastic.
Kitchen Cabinet Refacing
Cabinets look very good. Really nice job.
Cabinets look beautiful
Cabinets look beautiful! Crazy the difference this makes!
Cabinet Refacing
Install was super clean and very happy how the cabinets turned out.
Schedule Your FREE Consultation
Combine your imagination with our experience! Our Certified Kitchen Designers are available to meet Virtually Online, or in your home. Schedule today and take advantage of our current promotions and financing offers.