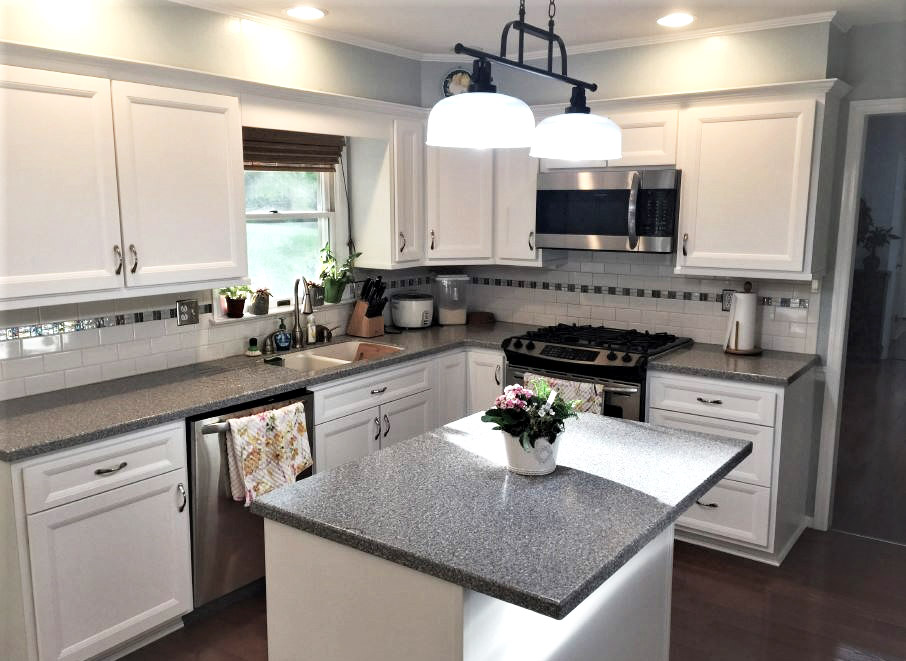 A fully customized kitchen in a fraction of the time of a full remodeling project
Do you plan to keep the existing kitchen layout exactly the same, but want it to look like new? Cabinet refacing might be the best option for you. Save time and save money and still get a new looking kitchen. Installation can normally be completed in 3–5 days!
What is Cabinet Refacing?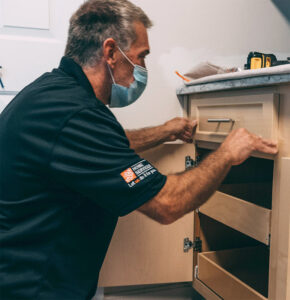 All your existing kitchen cabinet doors, drawers, drawer boxes, and hardware are all taken off the cabinet boxes and discarded.
The exterior surfaces of your existing cabinet boxes are then prepped and even structurally enhanced on all the exposed sides; as well as underneath the wall cabinets.
After prepping the cabinets, we then apply either an authentic wood veneer or a maintenance-free laminate material that is permanently bonded to the cabinets and matches the door style you have chosen.
Finally, we install new doors, drawer boxes and new drawer fronts, all with new soft-closing hardware, and new doorknobs and pulls.
Your transformed kitchen will look like new!
Watch the Transformation
This time-lapse video shows how dramatically refacing can update a kitchen . See what the process is like as one of our installers takes a kitchen from start to finish.
What are the benefits of Cabinet Refacing?
Time
Typically only 3 – 5 days to install; a fraction of the time of a typical full tear-out remodeling project.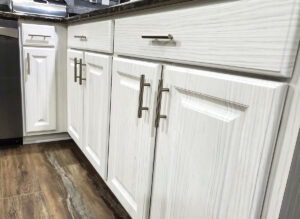 Extra Cabinets
Revelare Kitchens manufactures its very own cabinetry that can supplement your existing cabinets. This unique capability allows us to add additional storage space and make certain layout alterations bringing you a true custom kitchen look that other "Refacing" companies simply can't do.
Accessories
Our "Refacing" solution is also unique in that it offers a whole host of accessories; some are functional, and others are strictly aesthetic. Profiled moldings, drawer inserts, trash pullouts, lazy suzans and roll-out shelves are just a few of the many options to choose from with our kitchen cabinet refacing services.
Low Risk
Kitchen cabinet replacement projects with standardized cabinets are recognized as one of the highest risk categories amongst all home improvements. Wall and floor issues are typically impacted with this approach leading to never-ending change orders where the price ends up being extraordinarily higher than the initial contract. These risks are entirely eliminated with our Refacing method.
Countertop Considerations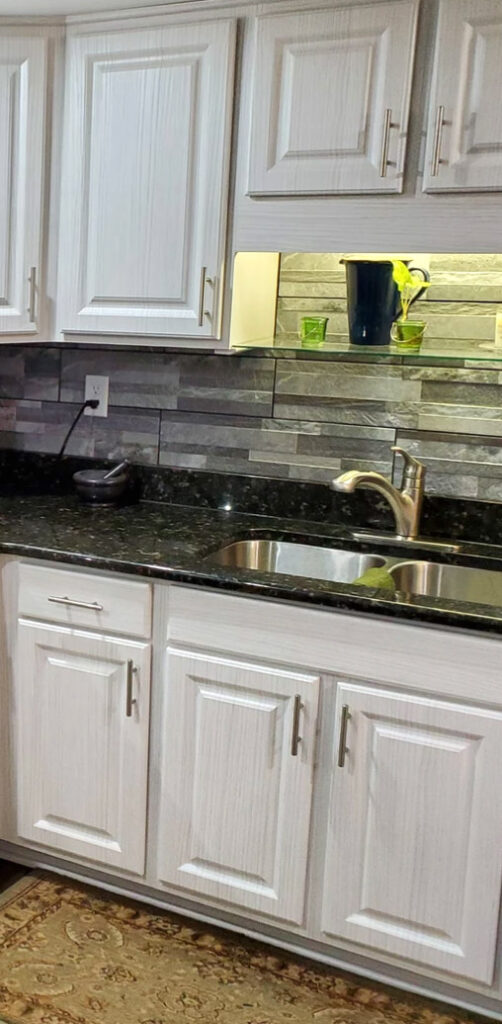 Are you happy with your existing countertop?
Maybe you recently replaced your countertop and now you're just not happy with the look of the cabinets, then Kitchen Cabinet Refacing is not only your BEST option, but realistically, it's your ONLY option.
Are you thinking about replacing your countertop, but not sure?
When replacing your cabinets with all new cabinets, we call this the "ALL IN OPTION". You have extra money tied to the project plus the added stress of making the perfect color match combination with your new cabinets. Our Refacing option enables you to bite off a little at a time from a budget standpoint. And, it gives you some breathing time to later decide on your countertop selection.
Are you ready to do your cabinets AND the countertop?
No worries! And yes, we provide countertops too. Our designers are perfectly equipped and experienced to provide you with photos and samples to walk you through these combination design choices with pricing options. We can provide this service either through our Refacing method or our full Cabinet Replacement approach.
Door Style, Design & Color Options
Another distinct advantage to Revelare's Kitchen program, regardless of the "Solution" you chose, is that you have the advantage of dealing with a company that has the most extensive and diversified selection of styles, designs and colors than anyone else in the industry. This provides you with a truly unique, one-of-a-kind kitchen that will be individualized and the envy of your neighborhood.
These aren't small details. These are major difference makers that make all the difference in the world when it comes to a HIGH RESALE value. Our certified designers are trained to walk you through this selection process.
Frequently Asked Questions
Schedule Your FREE Consultation
Combine your imagination with our experience! Our Certified Kitchen Designers are available to meet Virtually Online, or in your home. Schedule today and take advantage of our current specials and financing offers.