Freedom of Artistic Expression
These are some interesting times we're all living in. And what we're actually "living in" these days is our very own kitchen, at least more often than any other time in recent history. And consequently, the kitchen has suddenly evolved into an intriguing focal point in our homes today. Granted, it has always been affectionately refer to as the "heart-of-the-home", the place for family gatherings; but somehow, in some imperceptible way, this traditional sentiment has been transcended by something entirely new.
Our customers today are looking for that "WOW!" factor in their kitchen – aesthetically and operationally. And that WOW factor must be as unique and individualized as a woman's gown at a formal gala – may there be no other like yours. Kitchens today, more than any other room in the house, have become the preferred canvas for a homeowner's personalized self-expression. Our customers are feeling empowered with being the artist; and our certified designers at Revelare Kitchens simply facilitate that process with unlimited possibilities.
The Kitchen Movement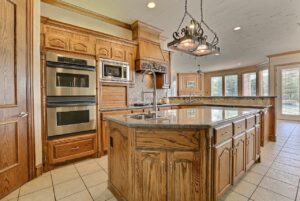 Historically, it's been interesting to watch this trend unfold – or as we like to call it, "The Kitchen Movement". Prior generations viewed the kitchen simply as a utilitarian room for storing food and cooking. Then slowly, the aging Baby Boomer generation gave rise to the open floor plans where the kitchen became more of a familial gathering place.
But all through the 1990s and early 2000s, the vast majority of kitchens still consisted of stained wood – either cherry, maple or a pickled-oak.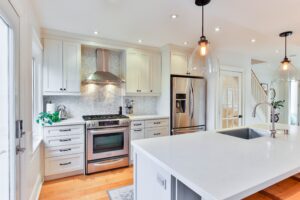 Then there was a seismic shift that went viral around 2012. Solid colored kitchens suddenly overtook the stained-wood market, and the "dream kitchen" today has now taken on a new look. We call it the "50-shades of Grey" and "50-shades of White" trend. These solid color selections, typically with a shaker style door, are timeless and will be a sustainable trend into the distant future.
And now, in 2020, the compass needle seems to have moved yet again as homeowners find themselves "sheltering in place". While spending more time at home, and in their kitchen, homeowners have become imaginative and they're unleashing some creative ideas. Today we are seeing more and more navy blues, soft greens, pastels and a variety of primary colors with two-tone kitchens. And interesting enough, these kitchens actually look awesome!
Market Space Fulfillment
Fortunately, Revelare Kitchens has kept pace with these current trends and recognized as one of the premier kitchen-contracting companies in the entire industry. Our core differentiation from the competition is the extensive variety of color and styles we offer – total diversification. We custom manufacture our very own cabinets with our very own paint facility utilizing pigmented polyurethanes on our doors and drawer fronts. If we can't provide you with your choice of color and style, chances are no one can.
But don't interpret this as us being the kitchen company for the lifestyles of the rich and famous. In fact, it's just the opposite. The most amazing distinction of our company is that we offer this variety and customization at an appealing price for the average homeowner. Our Revelare Certified Kitchen Designers are trained and experienced in being price sensitive on behalf of our customers. We stay within our swim lanes for middle class America. You'll find our kitchen solutions/services are uniquely positioned to appeal to your specific budget.
On behalf of all of us at Revelare Kitchens, we wish you and your family good health in these challenging times.

Mark Curry
President/CEO

Design it yourself with the our Online Kitchen Design Visualizer. GIVE IT A TRY »
Schedule Your FREE Consultation
Combine your imagination with our experience! Our Certified Kitchen Designers are available to meet Virtually Online, or in your home. Schedule today and take advantage of our current promotions and financing offers.