RATING
RATING
RATING
RATING
RATING
How We Achieve Customer Satisfaction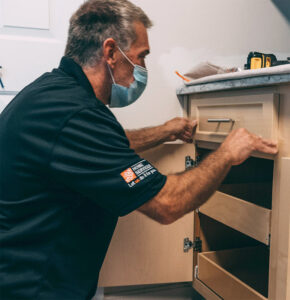 Every company obviously wants to tout their commitment to satisfying their customers. However, the difference is in execution. And to execute, you need competent people with an engineered process that consistently, time after time, delivers the desired outcome of a raving fan; not by accident, but by design.
Our time-tested process for accomplishing this was nationally recognized by The Home Depot in 2017, when Revelare Kitchens was awarded their #1 Service Provider that most closely emulated Home Depot's core values towards servicing the customer. Regionally, Revelare Kitchens has been consistently recognized as having the highest VOC scores (Voice of the Customer ratings) based on Home Depot surveys.
Over the years Revelare Kitchens has continually hosted tours of our facilities for other Service Providers on behalf of The Home Depot.
Recent Customer Reviews
Very Happy
Kitchen looks great. Very happy.
Cabinets look good
Cabinets look really good. They just needed an extra wipe down plus we have a large open floor plan which made it difficult to keep the dust in the kitchen but not a big deal.
Kitchen looks fantastic
Kitchen looks fantastic. I appreciate the COVID precautions that everyone followed.
Looks wonderful!
The kitchen looks wonderful! What a transformation!
Everything looks great!
Everything looks great! Bob did a great job.
My wife loves it
The wife is happy. Happy wife, happy life. Very pleased.
Very satisfied
Craftsmanship: very satisfied. Cleanliness: very clean.
It only took 3 days
Looks Great! Surprised it only took 3 days!
Transformed
It's beautiful! Looks completely transformed!
5 Stars
Craftsmanship: I'd give him a 10. Cleanliness: he sure did. Communication: no problems. Courtesy: everyone was great. I would definitely recommend it.
Love my kitchen
No problems at all, very happy. Excellence.
Craftsmanship: 5 plus
Definitely exceeded expectations.
It's fantastic
Craftsmanship: It looks better than I expected. It's fantastic. Cleanliness: There was no dust, the place is spotless. Communication: yes, it was very good. Courtesy: Yes. I highly recommend refacing by you guys.
Kitchen Cabinet Refacing
Craftsmanship: extremely pleased. Cleanliness: phenomenal. Communication: everyone followed up well. Courtesy: perfect.
Very Happy
Craftsmanship: I'm very happy with it. Greg is great, you have a really good guy here. Cleanliness: Absolutely, yes he did. That should be a ten. Very likely to recommend.
Schedule Your FREE Consultation
Combine your imagination with our experience! Our Certified Kitchen Designers are available to meet Virtually Online, or in your home. Schedule today and take advantage of our current promotions and financing offers.