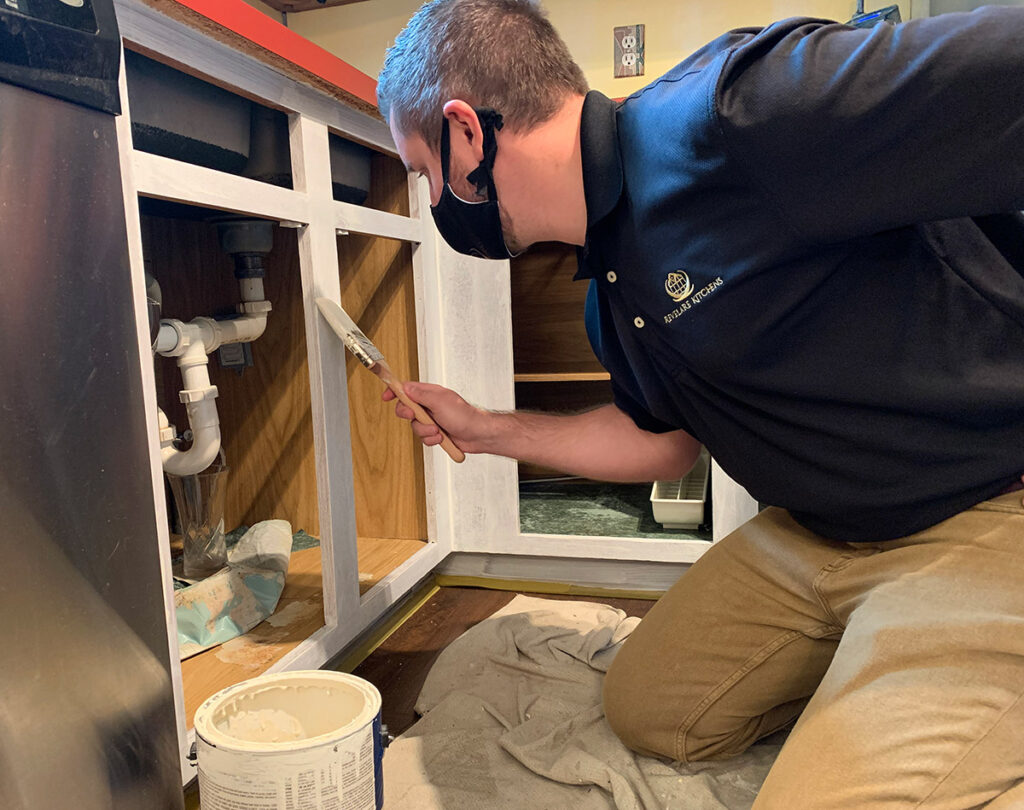 A popular kitchen update solution for the price conscious consumers
Imagine a brand-new kitchen at a fraction of the price of a full remodel. Change your cabinet COLOR and STYLE – and improve cabinet FUNCTIONALITY with Revelare Kitchen's HYBRID-Painting Services.
We paint the cabinet boxes, but replace all the doors and drawers with a new style and matching color.
Go From Outdated to Updated in 4 Easy Steps
Choose your color from our color palette
Choose your new door style & door pulls/knobs
All doors come with hidden soft-close hinges
We'll remove your old doors and drawers, discard them, and then paint the cabinet boxes
We'll then install your new doors with soft close hinges and with new knobs & pulls
One day install – in and out!
What to Paint… and what NOT to Paint.
Did you know that many professional painters tend to steer away from painting kitchen cabinets?
It's because of the DOORS & DRAWERS.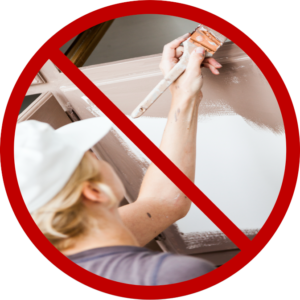 Painting the bare cabinet boxes is relatively straightforward but the doors are a different story altogether. Kitchen doors typically have raised panels, grooves and patterned edging. These uneven surfaces make it difficult, if not impossible, to get a uniform finish after sanding and prepping. The end-result is a door that looks…well…like it was painted. Even when it's professionally sprayed, you just don't get that uniform and consistent sheen you hoped for compared to a newly manufactured door.
This is why we . . .
1. Brush and roll the flat surfaces of the cabinet boxes with one prime coat and two finish coats.
2. And then, install all BRAND NEW doors and drawer fronts with a new style and matching color with new hardware.
The Revelare Kitchen Painting Advantage
| | Fully Painted Kitchen | Revelare's Hybrid Painting Solution |
| --- | --- | --- |
| New Color | ✅ | ✅ |
| New Door and Drawer Style | ❌ | ✅ |
| Soft Close Hinges | ❌ | ✅ |
| New Knobs/Pulls | ✅ | ✅ |
Revelare's HYBRID Painting solution involves painting the cabinet boxes and then replacing all the doors and drawers with new hardware. This solution is only marginally more money than having a professional painter paint the entire kitchen.
Frequently Asked Questions
Click on the tabs below to see answers to common about our door replacement program.
Schedule Your FREE Consultation
Combine your imagination with our experience! Our Certified Kitchen Designers are available to meet Virtually Online, or in your home. Schedule today and take advantage of our current specials and financing offers.